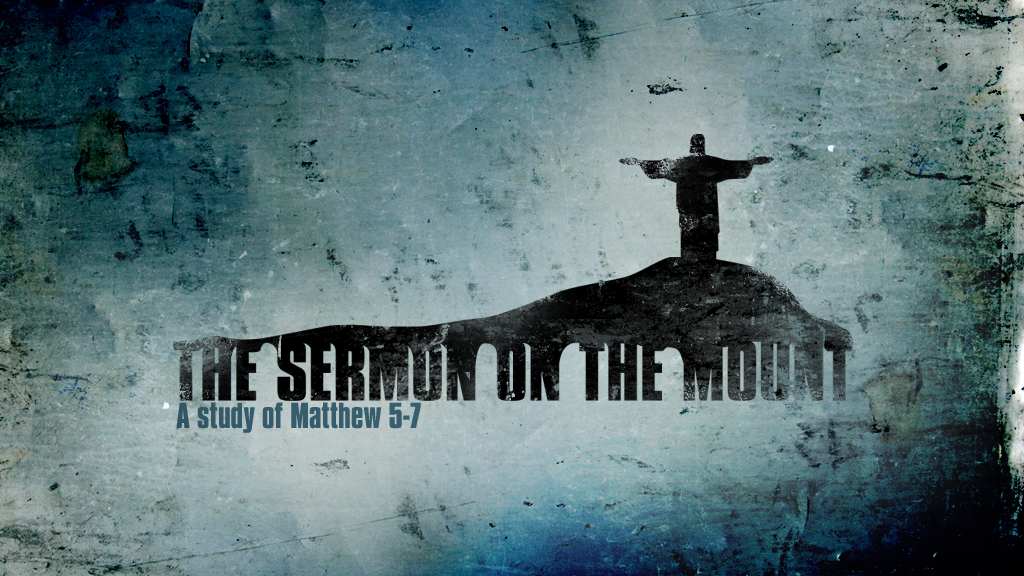 Reflections on the Sermon on the Mount
Readers in the Church of England are trained to be lay theologians who support people to explore and deepen their faith. Each year, in writing for the Parish Magazine, I take on a theme which I hope will further this aim. The articles I write require research, thought and prayer, in order to encourage and not daunt. When Jesus spoke to his listeners, he could be quite challenging. Often, this was because he faced hostility from those high in the religious establishment. This year I would like to share with you some thoughts on Chapters 5 to 7 of St Matthew's Gospel, which St Augustine called "The Sermon on the Mount". It contains the essence of Christian discipleship: a statement of the life we will live when God is having his way with us. It is Jesus telling us about the new order, the new covenant and it is revolutionary!
At the beginning of Chapter 5, Matthew tells us that Jesus sat down. When a Rabbi sat to teach, it was a sign of some fundamental and weighty message(s). Who was this teaching aimed at? Given the nature of the message, some believe it was aimed primarily at his closest disciples. The bigger picture the gospels paint of Jesus would suggest that anyone who wanted to "listen in" could do so. Certainly, that is confirmed by a remark later in Matthew's account when he says that the crowds were amazed by Jesus' teaching because he taught with such authority. It seems to me that Jesus' words were aimed at those who were willing to understand God in a different way to that being put forward by the religious leaders of the day.
Jesus is teaching about the Kingdom of God and how it operates. In particular, he is telling us that the Kingdom is within us, not somewhere else. We now know what Jesus' hearers were to learn later, that the gift of the Holy Spirit would change everything. Godliness is possible when we allow the Holy Spirit to show us what holy living looks like. Crucially, the Holy Spirit tells us that Jesus is Saviour before he is Teacher. Jesus' hearers at the time were being challenged to realise that they (and we) cannot achieve things ourselves: we come to God as paupers and receive generously from a God of love who wants us to fully realise ourselves.
Jesus tells his hearers of a holiness that exceeds the legalism of the religious elders of the day and how living according to the law could be bettered. The Sermon begins with the beatitudes, which we will spend some time looking at in detail. Then, how to apply these teachings in day-to-day living is examined. There is no doubt that Jesus' message was inclusive of the marginalised and vulnerable in the society of that time – and still is! He expresses the grace of mercy and peace. We will come to see the characteristics of the faithful – salt of the earth, light of the world. We will also reflect on the great gift of the Lord's Prayer – how to build a right relationship with God through prayer. Placing our lives in God's hands, we respond to God in gratitude and love, which conquers all self interest. I hope you enjoy the journey through the articles this year and they give some food for thought and maybe action.
Garth Wright
I have been greatly inspired by several sources and in particular William Barclay's commentary on the Gospel of Matthew, Oswald Chambers "Studies in The Sermon on the Mount" and R. T. Kendall "The Sermon on the Mount"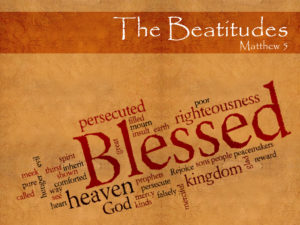 Reflections on the Sermon on the Mount – The Beatitudes
Matthew 5:3 – "Blessed are the poor in spirit, for theirs is the Kingdom of God".
For us, the Beatitudes are not statements but exclamations of the joy of being a Christian! The Sermon on the Mount is a statement of the life we will have when the Holy Spirit is being invited in to us to develop our relationship with our Creator. The Sermon can promote utter despair when we first examine it because that is what is needed to shake us out of complacency and really turn to Jesus the Christ. Beware of thinking the Beatitudes are mild and beautiful. They bring a new sense of proportion to the way we live and may have been aimed primarily at some arrogant and self-centred religious leaders of that time.
The poverty being described in this verse is abject poverty. One who has nothing at all, someone who is destitute, not financially, but in spirit. Therefore, that person puts their trust totally in God. For me, I think of St Francis, who acknowledged his totally dependence on God and lived his life accordingly. Those who realise their own helplessness accept that God alone can bring help. So, they develop a prayer life and a constant personal prayer communication with God. They do not rely on the things of this world. When we realise we have no bargaining power with God, we have reached an understanding of our Creator/created relationship and can receive God's free and generous grace.
The Kingdom of God mentioned in the verse is not a future promise of heaven, but now! In John 14:23 we read, "All who love me will do what I say. My Father will love them, and we will come and make our home with each of them". Those who do God's will are already citizens of the Kingdom of Heaven. We can only do God's will when we realise our helplessness and put our whole trust in God.
Jesus teaches us in the Beatitudes that the way up is down! Those who humble themselves before God and recognise their need will be exalted. When we feel helpless and hopeless, then there is hope. Look at Luke 18: 9-14 where Jesus tells of a Pharisee and a Tax Collector praying near the Temple, close to each other. The Pharisee seems obsessed by his own virtue. The Tax Collector humbly asks God for mercy. Jesus tells his listeners that the poor in spirit are the "chosen ones".
William Barclay puts it like this, "O, the bliss of those who have realised their own utter helplessness, and who have put their whole trust in God, for thus alone can we render to God that perfect obedience which will make us citizens of the Kingdom of Heaven". Christianity is not like the education systems we have developed in our country. We do not have to strive to pass some entrance examination or earn God's approval.  The first Beatitude teaches us to acknowledge our need of Godly help through faith and trust in God's grace and develop our relationship with God. Our growing discipleship will be based on love strengthened and deepened through prayer and reflections on the writing of the faithful who have preceded us and gifted us with their God-inspired wisdom.
Garth Wright

Reflections on the Sermon on the Mount
Matthew 5:4 – "Blessed are those who mourn, for they shall be comforted." (NRSV)
How do we interpret this profound verse? "Blessed" means "happy", and the latter word appears in our liturgy, although I prefer "blessed". Happy can be taken to be a frivolous, superficial feeling. Nonetheless, when applied to the verse above the words seem to say, "Happy are the unhappy!" rather a contradiction in terms! The verse contains a definite promise of comfort but it is an undated promise. Comfort will definitely come but when is not specified. The comforting is through the Holy Spirit and is a certainty but what we need to experience and possibly repent of before the full force of the grace promised rests with God's loving intentions for us. We return to that deepest of commitments when we profess our belief in God: that we trust God's intentions to help us become what we were meant to be.
Apparently, the Greek word used for "mourn" means a passionate lament for a dearly loved one. It is the word used to describe Jacob's reaction when he was informed of the death (untrue) of his beloved youngest son, Joseph. Mourning can be seen as a recognition of the brokenness of the world – not as it had been intended by the creator. As such, it can lead to a greater sense of the presence of God and, consequently, a deeper faith. Some trials and tribulations are a means of growth: suffering, although never wanted, can help us develop depth and serenity. However, there is no blessedness to be gained by mourning over foolishness or embarrassment: these are things to be dealt with by the sacrament of reconciliation. Confession and absolute belief in forgiveness brings inner peace.
William Barclay offers three interpretations for Matthew 5:4. Firstly, he thinks of those who endure deep sorrow over the dark events of life. These may include death of loved ones but also severe illness of people we had found to be loving and caring. Secondly, he thinks of those who are sensitive of the many sufferings throughout the world. Not just natural disasters but the ongoing plight of those in war-torn areas and underprivileged regions of our planet. Thirdly, he considers those who experience deep sorrow for their sins and feelings of unworthiness. In each interpretation, the Holy Spirit is at work within the soul facilitating profound change that will, at the right time, bring comfort.
Obviously, no one looks to suffer! The verse is about giving and receiving: those who give genuine love and suffer loss, receive genuine love from the One who died to save all. Those who genuinely love genuinely mourn and are comforted by our loving God. In this verse, I believe Jesus is telling us honest feelings will always be honoured. It is a warning for the insincere! People who humbly seek to love and care for those around them will genuinely mourn when sadness occurs, be comforted in due season and be blessed.
Do not stand at my grave and weep; I am not there. I do not sleep.
I am a thousand winds that blow. I am the diamond glints on snow.
I am the sunlight on ripened grain. I am the gentle autumn rain.
When you awaken in the morning's hush I am the swift uplifting rush
of quiet birds in circled flight. I am the soft stars that shine at night.
Do not stand at my grave and cry; I am not there. I did not die.
Anonymous
Garth Wright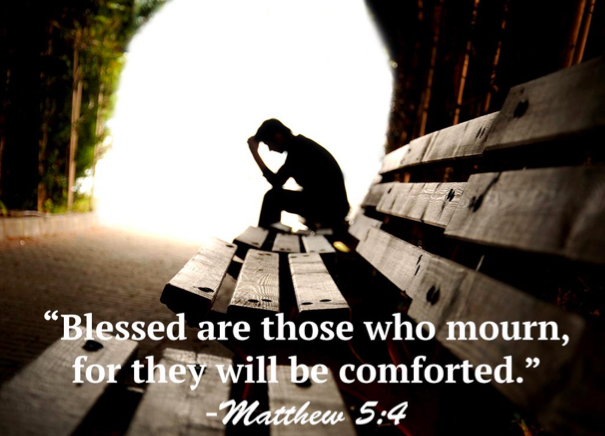 Reflections on the Sermon on the Mount
Matthew 5:5 "Blessed are the meek, for they will inherit the earth" (NRSV)
Meekness or humility recognises our weakness and need for God. Meek people have learned to banish pride, accept their limitations and listen discerningly. True meekness is attained when God is working in us, bringing us to a higher spiritual level. We attain maturity when we realise we are creatures and God is creator. To be meek is to be unaware of self. Jesus is unpretentious. In Matthew 11:29 we find Jesus saying, "Let me teach you for I am humble and gentle at heart and you will find rest for your soul." As J.G.Whittier put it in the lovely hymn "Dear Lord and Father of mankind", "Drop they still dews of quietness, till all our strivings cease; take from our souls the strain and stress, and let our ordered lives confess the beauty of thy peace."
Meekness does not mean spineless or subservient. It the opposite of boasting and seeking praise from others. Self-righteousness, arrogance, haughtiness and defensiveness are characteristics of ego-centric people. The world seems to value the desire for power, wealth and glory. Those who achieve power often get there by promoting themselves and under-mining others. Meek public figures seem to be in short supply: that can apply to prominent people in any organisation! There appear to be few who have the grace to accept criticism without sulking or answering back. No one can lead others until they have learned to control themselves!
The first half of this beatitude could read "Blessed are those who have the humility to know their own ignorance, weakness and need": or "Blessed is the person who is entirely self-controlled, doing God's service, finding freedom and inner peace". The first version is simply recognition of our human condition. The second version is a more profound recognition that we cannot do this on our own: we need the power of the Holy Spirit through prayer and being still before God. To try and achieve humility on our own can end in a false feigning humility as in the odious character of Uriah Heep, created by Charles Dickens. Jesus showed us the way in his life and death.
The second half of the beatitude is a promise: the meek WILL inherit the earth. To inherit the earth is to have the Kingdom, and that belongs to Jesus. As Pauls puts it in Romans 8 "For all who are led by the Spirit of God are children God (v.14)", "and if children, then heirs, heirs of God and joint heirs with Christ (v.17)" (NRSV). Notice how the first two beatitudes naturally lead to the third: a recognition of our own poverty and dependence on God, a sense of mourning for the way in which ego-centricity damages society, leads to true humility or meekness. That, in turn, brings us closer to God and his Kingdom.
Psalm 131: 1-2
Lord, my heart is not proud; my eyes are not haughty.
I don't concern myself with matters too great or too awesome for me to grasp.
Instead, I have calmed and quieted myself, like a weaned child who no longer cries for its mother'
Garth Wright