a fifteen minute story written originally for children…
A story that affirms however useless we may feel in our current state - God has a use for us.
Sometimes we are taught stuff we don't really understand but it might just be the thing we need that helps us get home.
Princess Ellie & the Cakes
When my grandaughter Ellie was about two years old she was living with us because Mum who was expecting little brother Patrick was not very well.  One day Ellie and I were in the park when she asked for a story……. a story about a Princess called Ellie…. and some cake.  This is the story- but an apt one in these times when our supermaket shelves seem empty. 
A Story for Strange Times
The first in a series of stories, some for adults and some for children. This one is for adults.
Continuing Professional Development and Ministerial Development Review
CMD & MDR – Don't you just love a good acronym?
Last week I attended a working group about CMD (Continuing ministerial development) at Epiphany House. Readers were well represented and the group led by Sally Piper (a reader herself) in the place of Rebecca who was unfortunately able to come because her son was unwell.
We had a a fruitful morning talking about what made a good course and what made a bad one as well as discussing in general terms practical matters such as location, time of day, housekeeping arrangements and so on.  The second, and probably last meeting will look at content, duration and geography! 
More thoughts on MDR and how it should affect CPD  (and Reader Licensing!) in due course.
Important news items:
1, Chaplain's Coffee and Conversation on second Mondays in Redruth has now been cancelled until the current crisis abates.
2. Reader Day has been cancelled for this year.
3. Transforming Ministry – (The old Central Readers Website)
The CRC website is no longer active – it is now Transforming Ministry – www.transformingministry.co.uk
Important news item: Chaplain's Coffee and Conversation on second Mondays in Redruth has now been cancelled until the current crisis abates.
Reader Day has also been cancelled for this year.
The picture is the lounge at the Penventon Hotel – we tend to meet in that far corner – cosy, quiet and good for conversation. Join us when it restarts in…… perhaps June.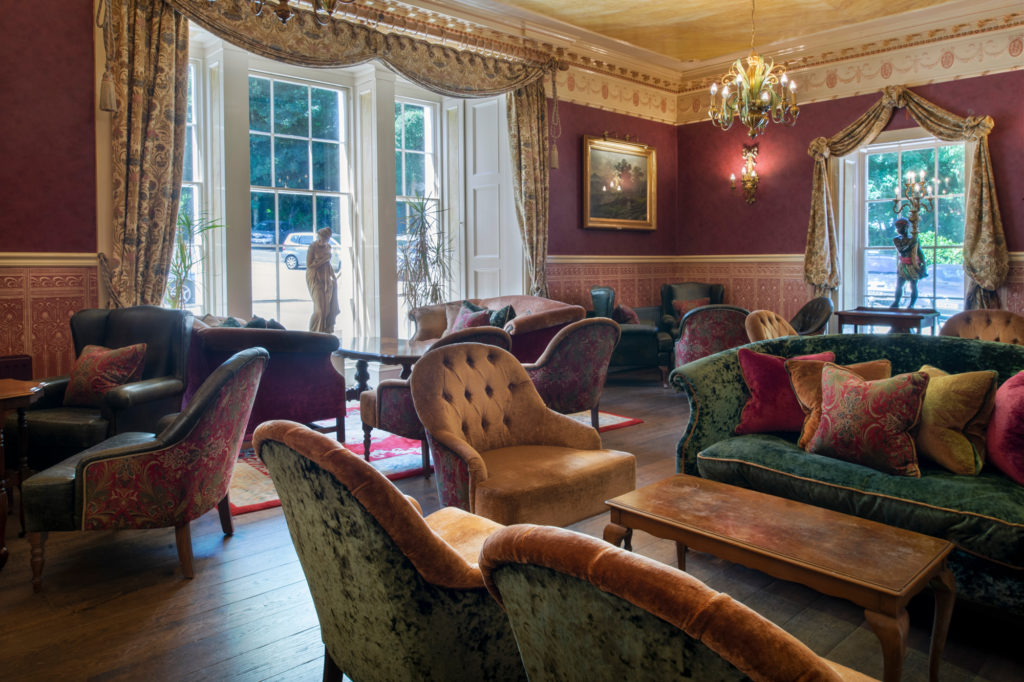 Dear All
I don't think I have actually been so busy since I was actually working for a salary and I have given up being chair of governors of two schools! As  I have said to many folks, many times, The trouble with retirement is that you don't get a day off!"
Regular readers of the blog will know that I officiated at my first funerals just before Christmas and since then I have done a couple more and preached at Lesley Boyden's – as requested in Lesley's funeral plan. It was quite an emotional occasion though just getting the request was poignant.  Another couple and I will have taken more funerals than I have attended in the past 60  years or so! Funny how one's ministry changes in response to need and the skills we gain with experience. When I was first licensed as a reader in 1988. death and dying was not something I wanted to think about and focussed very much on children and young people but after four years as Chaplain to Readers and longer with my involvement with those in training and with Spiritual Direction sitting and listening take less physical energy that my youth ministry used to! The mental effort of making sure that once captures the real essence of the deceased person so that everyone at the funeral recognises them in one's words is both challenging and rewarding. (when you get it right!)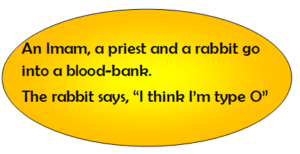 The St Andrews Randoms
My lovely wife amongst all the other things she does puts on a twice yearly musical event. Last week it was a folk night rather than the usual themed event so rater than the usual skilled keyboard accompaniment I was drafted in to play guitar and tell a folk tale in six parts. My fingers were so sore by the end of the performance but the story went down well and a good time was had by all making £600 plus towards the MMF making it a really worthwhile event in the eyes of the parish treasurer! The real benefit though is that some of the cast are not church goers and the same is true of half the audience meaning that it is a very really contact with Christians doing relatively normal fun stuff in a safe environment.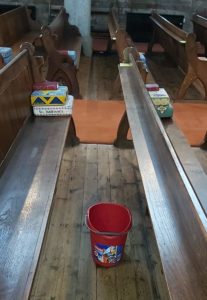 Storm Dennis took its toll on the Readers committee which has been postponed to March 21st. It should be an interesting meeting with a number of good discussion items on the agenda. One current issue you might like to comment on is about PTO, permission to officiate which starts somewhat arbitrarily at the age of 70. Having just had my 68th birthday this looms somewhat ominously. It does strike me that it is largely an irrelevance if we are all being re-licensed every 3 years or 5 years depending on diocese, a number does not make the job change, capacity does. More on this after the meeting. It will of course have something of a knock on effect on training……
Buckets to catch the storm at St Andrews Redruth
A Tale of Lesleys 
My life has been blessed with a number of Lesleys , my dear wife, Lesley Borden and Lesley Margetts our former secretary to Readers who gets a brief mention as the other Lesley Lesley B's funeral sermon. A fourth Lesley is Lesley Michell who has a commendation as a reader on the anniversary of her licensing on March 25th and I shall be going to ST Mary's in Penzance that evening to present her certificate. I am looking forward to it. Doubtless Lesley B will feature in future sermons and other Lesleys may as well!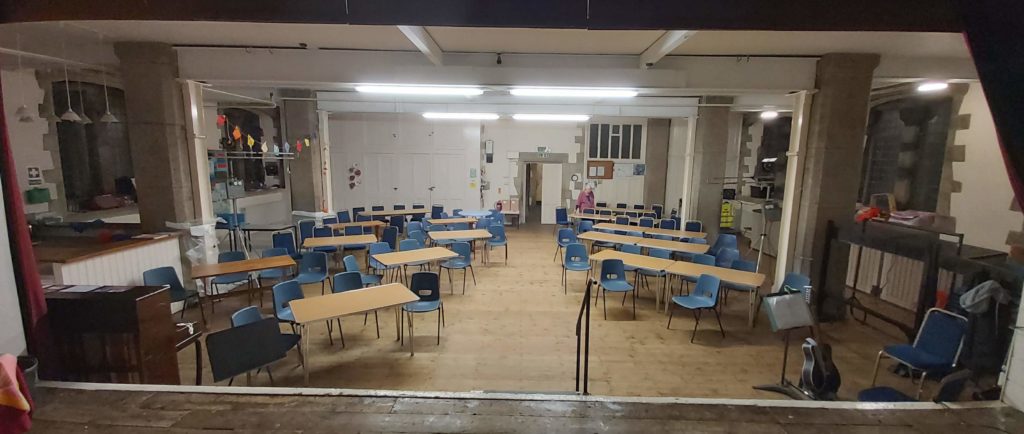 My Lesley (Lez) trying to fit in an audience and still move! The photo is so she can remember for next time.
Safeguarding
It has been gratifying in the safeguarding training I have been leading to see a much more positive commitment  towards safeguarding and in particular our care of and recognition of the pain of victims of abuse. I have been from Sennen to Rilla Mill with a mixture of safeguarding training and Chaplaincy visits. One session was one to one so that a Reader could be re-licenced  and the last was a C3 in my house for Readers in Training and two readers who needed to refresh their training so that the trainees would be ready for their placements. It seemed a good thing to do on the morning of my birthday:) 
I maintain that everyone who comes to church should have basic safeguarding training – not so that we are suspiciously looking for misdemeanours and culprits. but so that we love each other enough to spot when someone is suffering and then do something about it. Readers have such an important role here in spreading the word and changing the culture. 
 Jim
Prayer List – news in the accompanying email.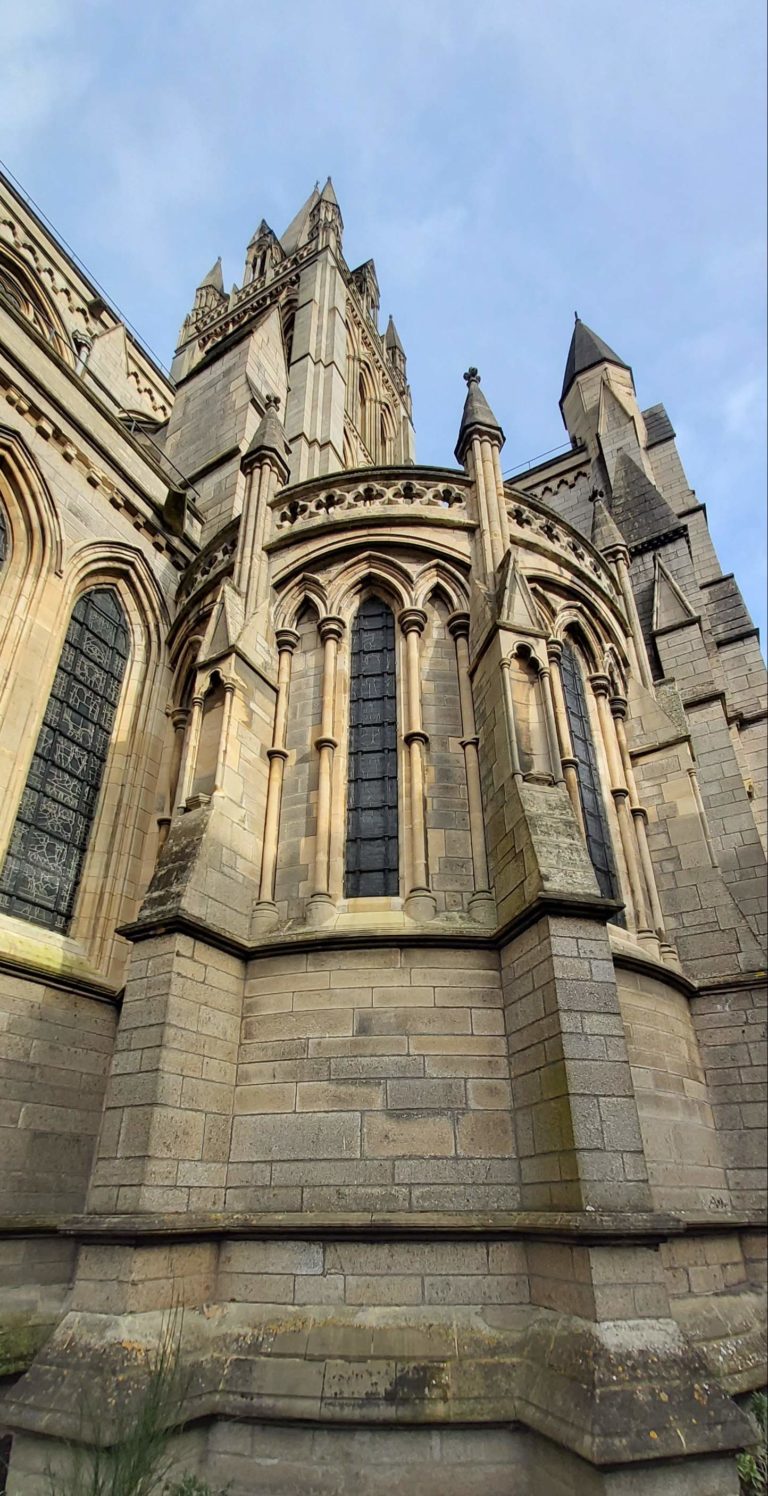 the damp looking stones at the bottom… mossy, grassy, stained but so important….. a bit like safeguarding! 
Lesley Boyden – Reader 18.06.49 to 25-01-20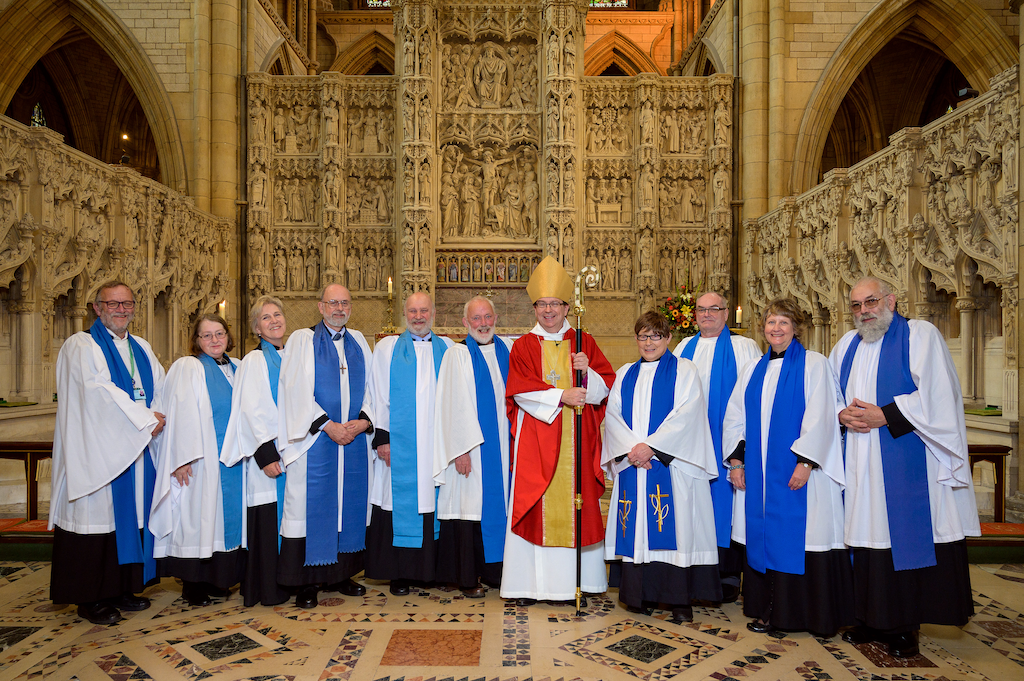 Lesley at Bishop Chris' left hand in the licensing service October 2019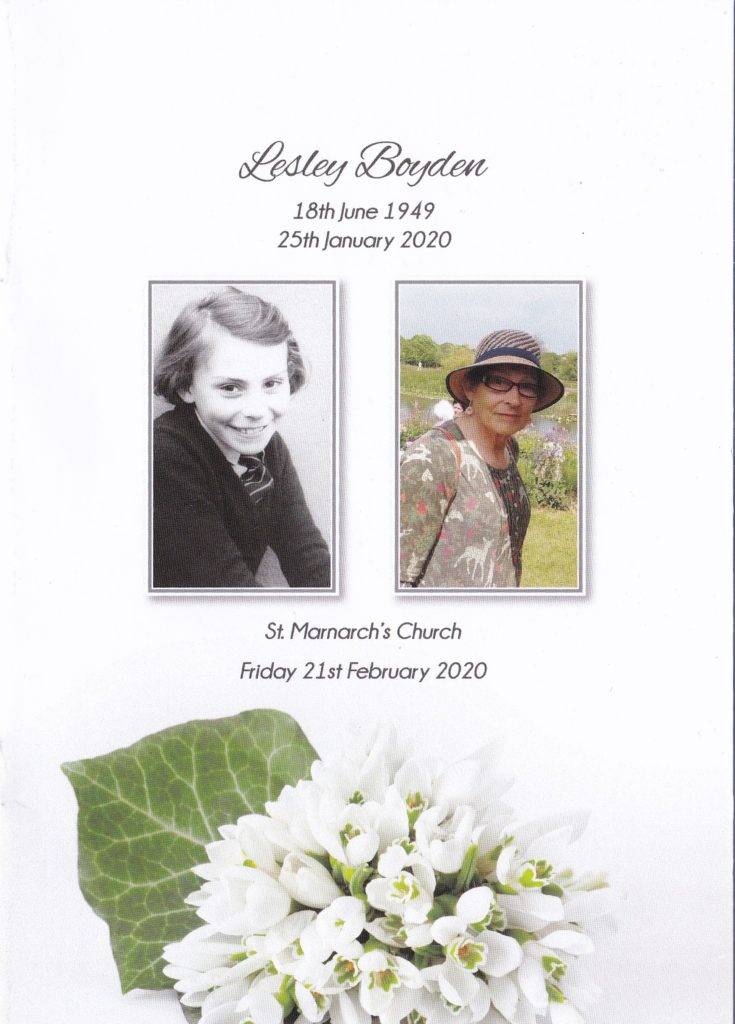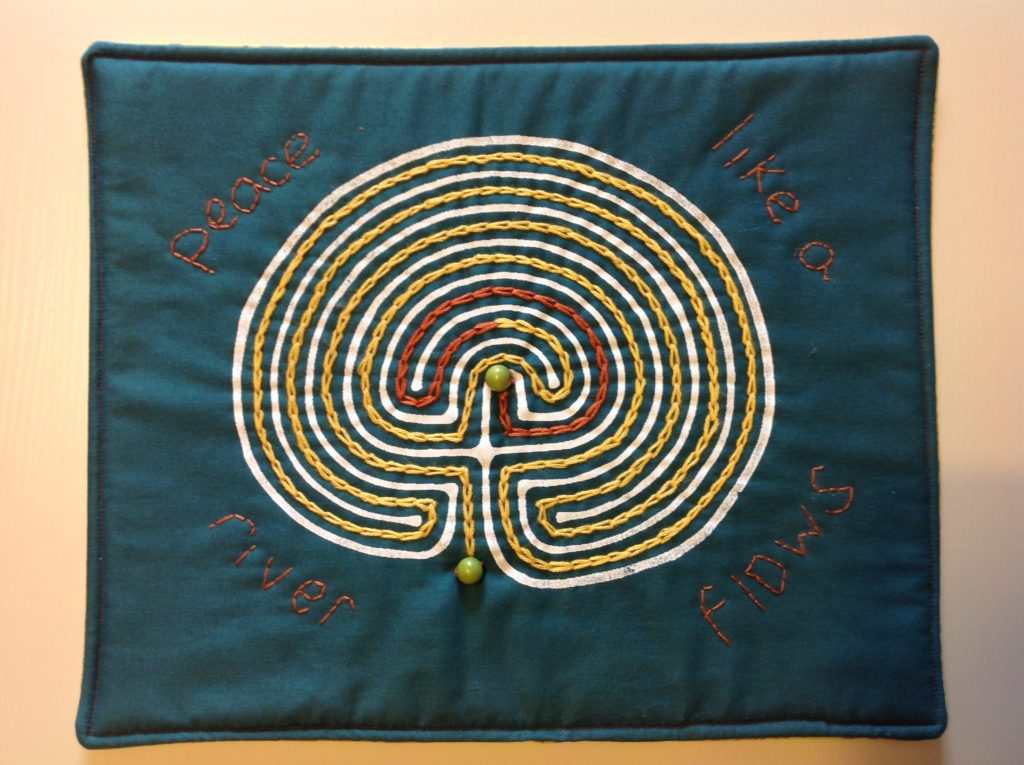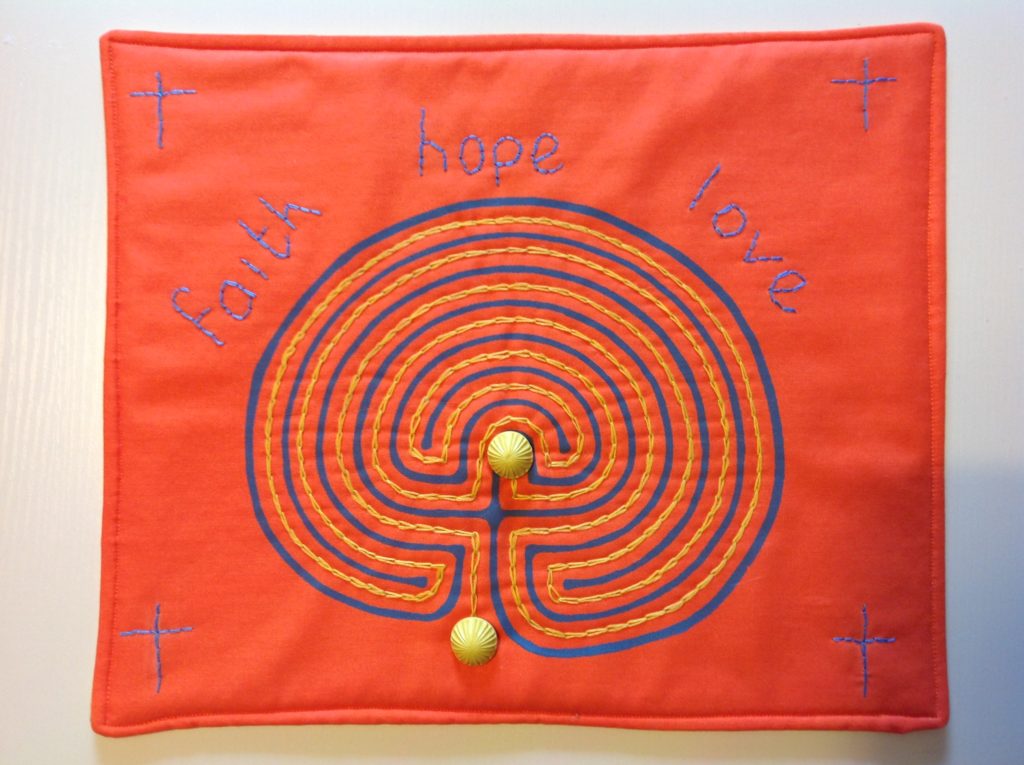 Lesley's prayer labyrinth by Lez.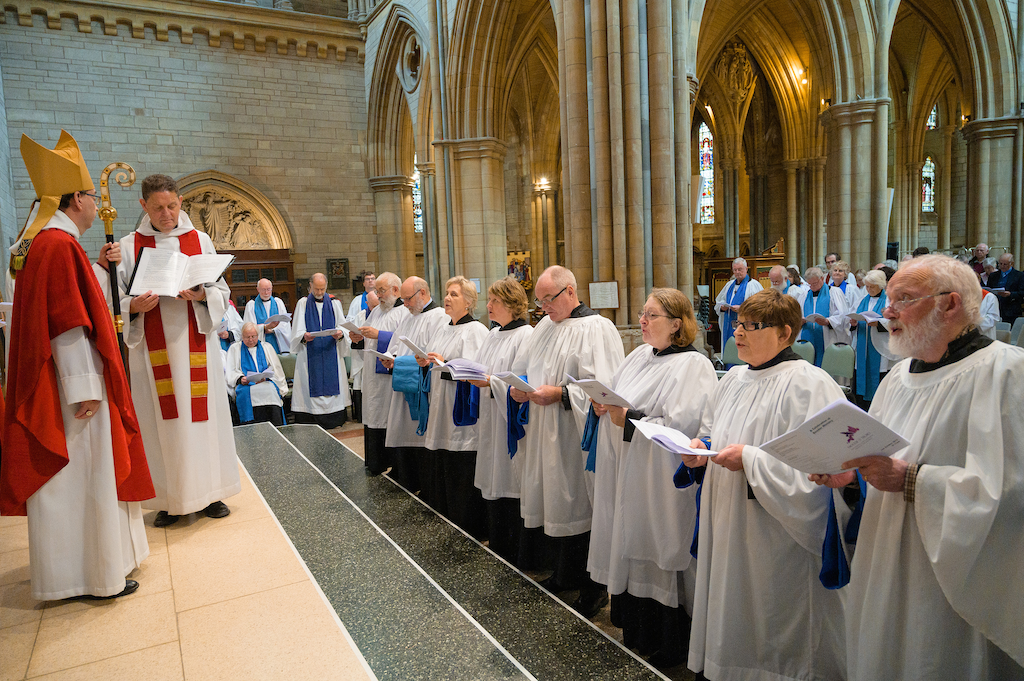 Lesley second from the right at the licensing. Her worry was that her wig might be dislodged when the Reader Scarf was placed around her neck.

Sermon for February 21 2020
Revelation 21: 1-7
Then I saw a new heaven and a new earth; for the first heaven and the first earth had passed away, and the sea was no more. 2And I saw the holy city, the new Jerusalem, coming down out of heaven from God, prepared as a bride adorned for her husband. 3And I heard a loud voice from the throne saying,
'See, the home* of God is among mortals.
He will dwell* with them;
they will be his peoples,*
and God himself will be with them;*
4 he will wipe every tear from their eyes.
Death will be no more;
mourning and crying and pain will be no more,
for the first things have passed away.'
5 And the one who was seated on the throne said, 'See, I am making all things new.' Also he said, 'Write this, for these words are trustworthy and true.' Then he said to me, 'It is done! I am the Alpha and the Omega, the beginning and the end. To the thirsty I will give water as a gift from the spring of the water of life. Those who conquer will inherit these things, and I will be their God and they will be my children.
The funeral of Lesley Boyden
A quote from Lesley's application to be a Reader back in May 2016. (Not 2018 as I said in the service! A vocal typo!)
"I feel that I will bring the strength of my years as a Christian from the joys and difficulties I have experienced along the way  and the many lessons I have learned and am still learning. I am sure my love for people will also benefit….."
That Lesley should have chosen this reading is unsurprising as, for me,  it really seems to epitomise her outlook on life especially in the time that I have known her. She exuded such positivity and faith firmly holding to the notion that her illness would take her home to Christ where the seas of earthly troubles would be no more, where He would be waiting to make all things right, wiping away tears and looking after his faithful like children.
I had heard that Lesley had planned her funeral a few weeks ago but until I got an invitation to preach on the reading from Revelation I did not know what she had planned; it seems such a short time ago but I was preaching at her licensing as a reader in the cathedral in October.
My life has been blessed with people called Lesley,
there's Lesley (or Les with an S) we remember and celebrate today,

There's my wife, though she likes to be known as Lez,

and another reader called Lesley to name but three.
So to avoid confusion we have John and the family's Lesley, My Lesley or Lez (with a Z) and the other Lesley. You may be wondering where on earth I am going with this.
Well my Lesley (Lez)  plans and runs a big arts festival every year and asked Rev Annie Henry to come and teach the "Crafty People" group how to sew prayer labyrinths. Well to cut a long story short, Lez was in her craft room (yes it's a serious business) sewing her labyrinth which had taken a number of painstaking hours when she wandered across to my study and said words to the effect of "This might sound a bit strange but I have a real sense that I should give this to Lesley which decoration do you think she would like?"
John's Lesley was delighted with it and Liz (who read the Revelations Reading at the service)  subsequently borrowed it for various things. Now Lesley and Lez had never met but whenever I mentioned news about Lesley, (Johns) Lez would say .."oh do you mean My Lesley?"
In many ways Lesley belonged to all of us here but we all probably knew her in different ways – different facets of her character and personality as we have heard in the wonderful eulogy from Kate earlier…. But I suspect if you asked quite a lot of people here what they remember of meeting her one of the things they would all say would be similar to the greeting she would give me….. "oh how's Lez? Is she doing her exercises… tell her not to worry….. "
She  would have wanted us to hear that reading today and to hear that everything was going to be fine, that all would be right in the end, that our tears would be wiped away and that she was OK….. Don't worry she has no more pain, or death  – and is with her beloved Jesus.
For those of us here without that faith she would also have wanted this address, and her life, her example, to open up a little chink of query in our hearts to seek to find out what it is all about. I am not giving answers here… after all it has taken me 60 years to get to this point and I still only scratched the surface myself.
I was so pleased that Liz and I were able to visit in the last couple of days of her earthy journey where she was aware of us as we talked to and prayed with her. At one point, Kate came in to say goodbye before going to pick up Lesley's granddaughter, Ella  from school ………. and the last words I heard Lesley say were "love you"
And that's what it's all about. Lesley followed Jesus command to love others like Jesus loved her and her example will live on not only in the family through genetics and influence but in all who met her and indeed in the new heaven and the new earth of revelation.
In the meantime, there may be many tears to be shed, both  today and in coming weeks, along with all the other emotions that go along with grief – but hold onto that image of Lesley as the embodiment love…..  tell the stories of her life but most importantly follow her example.
From that quote at the beginning, Lesley said, ". I am sure my love for people will also benefit….." and we all have.
Heaven has a new angel – I can't imagine her actually resting – but in any case she will certainly rise in glory.  Amen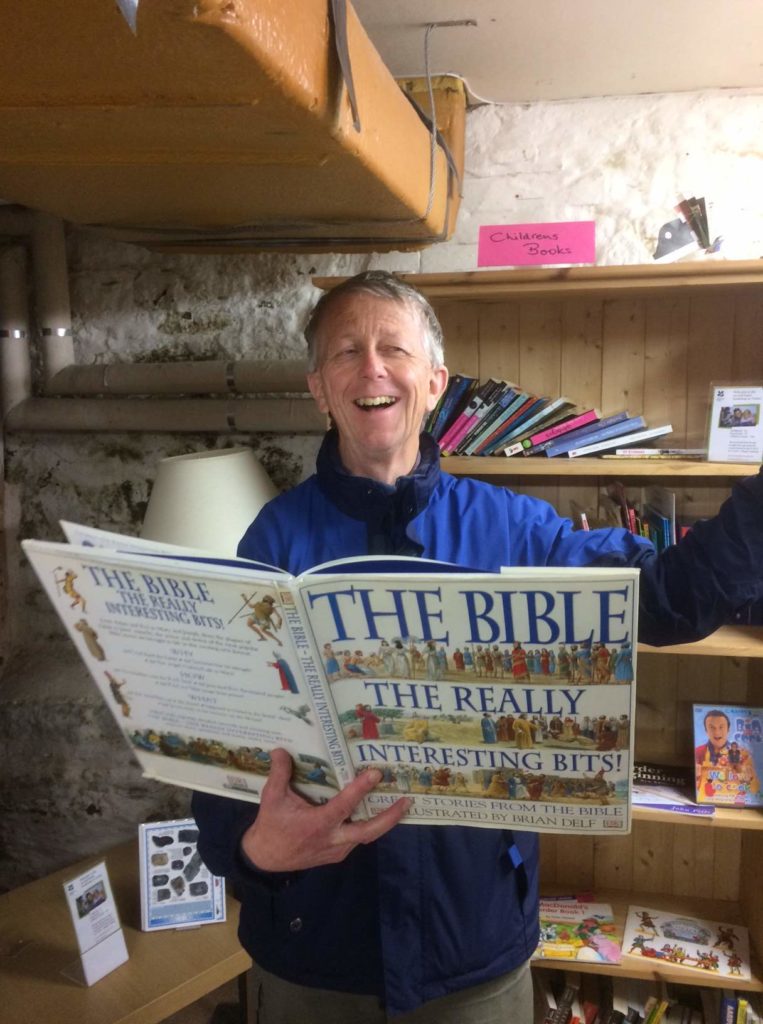 Since William started training in 2013 he has notched up an impressive 201 preaching engagements! 
Great to see a Reader so well used! 
How about news from other Readers….. and perhaps some pictures and comments. 🙂 
Yesterday I took my second ever funeral and the first in a church and the first at Penmount Crematorium.
Because it was a celebration for a local legend who was president, chairman, Lodge Master and choir member there were an awful lot of people who wanted to say farewell and I found it an enormous privilege to be able to to take the service and provide pastoral support for the family.
I never intended to get involved in funeral ministry and it does not even appear on last September's Work Agreement but  I have done so with  the encouragement of my Rector, Caspar Bush, who backed up his encouragement with a good deal of conversation and email because I like to get things right and pay attention to detail!
The funeral yesterday was a marathon affair and I suspect only really fell my way because the Eight Saints Cluster is somewhat short staffed for one reason or another at the moment. The family were really helpful and even gave me a lift to the church arriving at the same time as the church warden (Terry Lister) who could not have been more helpful in providing local knowledge to help with the choreography of the service- there were no spare seats and we even had Truro male voice Choir singing in the choir stalls! The first mourners were there over an hour before the start to get a parking spot and the seat of their choice but I was able to greet most of them at the door.
"Oh are you the vicar?"
"No not me….. not a vicar just a licensed Minister taking the service"
or
"Thank you reverend.."
"No I'm not a reverend"
"what are you then…?"
"Oh I'm a Reader, a licensed Lay Minister"
"Oh are you Methodist then?"
"Well no, I'm an Anglican minister but I am on the Redruth Methodist preaching plan"
(There is a question about Reader identity here I suspect!)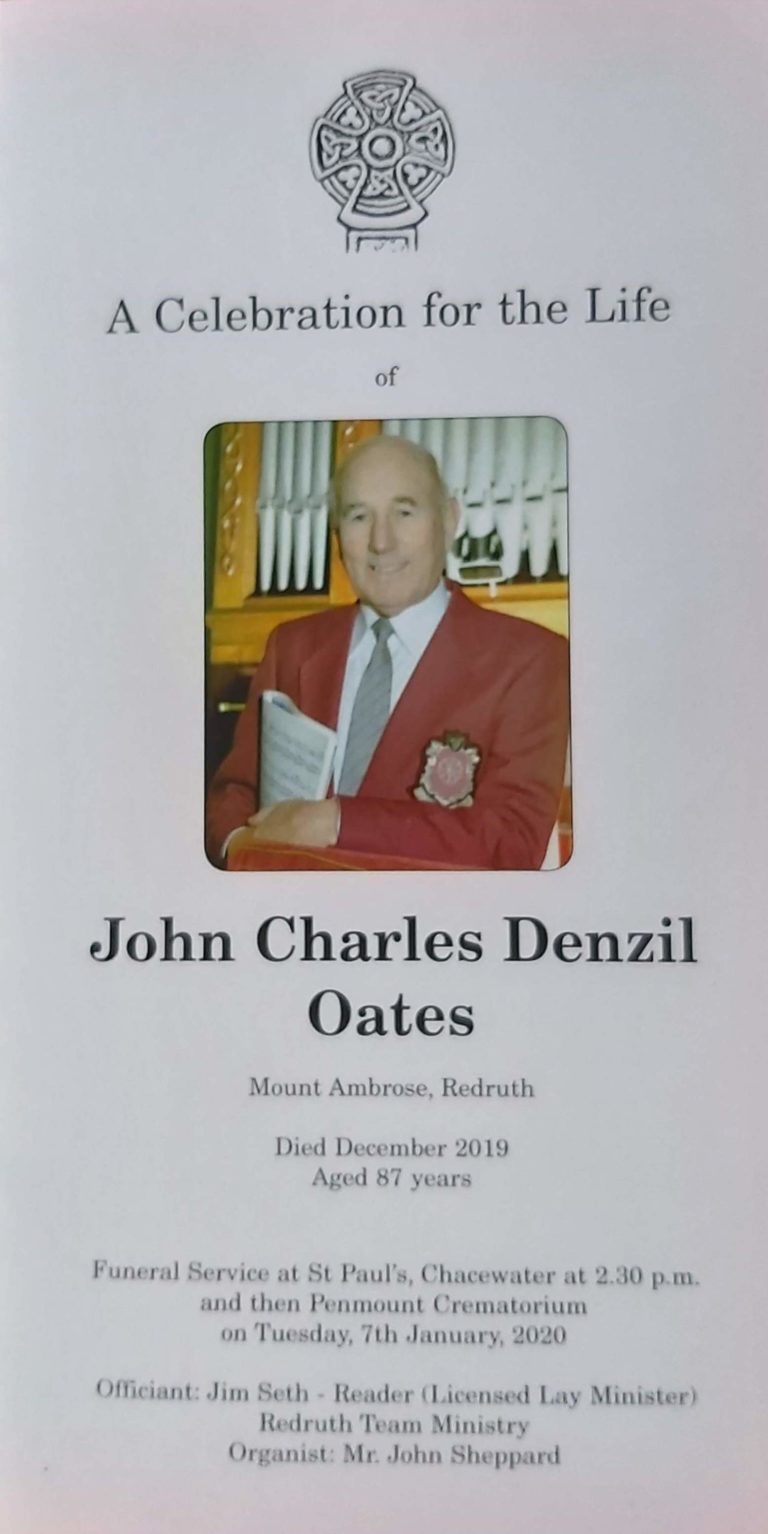 I had been wrestling with the cough that has lingered on since mid December and continued to do so as I wandered sedately down to the lych gate to await the hearse and the family. There I offered up my usual pre service plea for some spirit filed assistance and another one specifically about coughing. Interestingly, and rather wonderfully I did not cough again until three hours later when we left Penmount. Thank you Lord!
The wake had been planned for immediately after the service – so having shaken a couple of hundred hands and had several lengthy conversations I headed down to the bowls club to join the party- without my Readers robes, without them I could easily have been invisible- it was fascinating! I had to explain I had just taken the service so I could jump the long food queue and get a mug of tea.
The undertaker mustered the family at just after four and I threw on my robes once more and headed for the short committal at Penmount and then I was taken home! Everyone was incredibly grateful but I just felt that I had been in the right place at the right time and hopefully said the right things.
So I am glad that when God opened that door a fraction I stepped inside to give it a go and to learn new things. Even at 67 and three quarters you can teach an old dog new tricks.
Rest in peace Denzil.