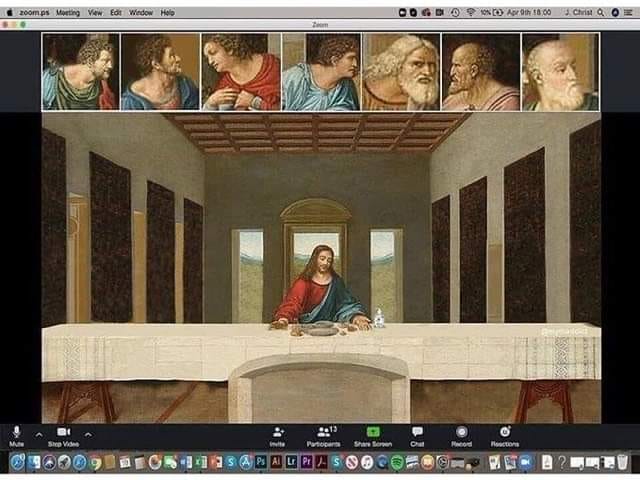 Blog
You would think I would have plenty of time in this period of 'locked down' 'social distancing'  and isolation from normal activity but for some reason I don't!
Lez and I have both commented how quickly the weeks are passing by, marked by the fortnightly brown bin collection or our son messaging on a Monday to ask for our Tesco shopping list or Chaplains Coffee and Conversation on a Monday morning.
ZOOM Morning prayer has given a familiar pattern to the weeks: me on Monday, Caspar on Tuesday, Deb on Wednesday, Graham on Thursday, Jason on Friday and Peter on Saturday with communion service on Sunday.
Most weeks I drop into Bishop Philips chatty service on Facebook at 9:30 on a Sunday before our own. All these things have replaced the old routine of singing in nursery  and checking the diary for the next safeguarding course and of course picking up the grandchildren from school and supervising homework.
ZOOM has proved a blessing and a curse. A curse because sometimes I'd like to move away from it- sometimes I get frustrated with it and sometimes I get irritable because of the way people are using… or rather misusing it.
So far I have sat at my desk in front of the camera to:
Tell stories

Sing nursery and other school songs

Sing the Peruvian Gloria in a service..

Read and preach

Lead morning prayer

Host group chaplaincy social mornings

Attend meetings

Teach maths to the grandchildren

Teach story writing to grandchildren and listen to reading.

Spiritual direction and next week a spiritual direction supervision!
So its very early morning walks to keep fit enough for all that sitting at a desk…. I am not used it! Even back when I was teaching I was moving constantly.
So all in all I like Zoom but my pet hates are:
people who don't mute themselves and allow extraneous noises to interrupt-

or worse still the folks who play with settings while they are listening and then suddenly share their screen with everyone.

Or the folks on a tablet or mobile phone who have their thumbs over the microphone making loud scraping scrunchy noises
Things I don't mind:
*spending an hour explaining how to make the microphone
But don't let that put you off….. do delve into the zoom world and chat to others- it's better than isolation!