Highlight of the Week:
The virtual visit of Rabbi Naomi from Kol Chai Hatch End Reformed synagogue who spoke about her faith journey and her work to the Reader's Post licensing Group. 
I am delighted that she has agreed to come back next year for the next group to help with our multi-faith conversations. 
Reader Kay Short asked on Facebook: Kay Short
"Can new to the Diocese Readers join in too? And do any (evening) groups exist for Readers to continue learning and reflection that I could join please? If not, could I start one? I miss being able to read and reflect theologically with others!"
Well I would be delighted if Kay started an evening for reflection and learning and would be the first to sign up if it is an evening when I am not already tied up.  
If you would find this helpful drop me a line and I will pass it on to Kay. The Monday Morning Chat will remain open on ZOOM although I am not promising to always be in attendance but several people have asked for something with a little more focus in an evening.  I am happy to host the ZOOM so that Readers from across the Diocese can take part.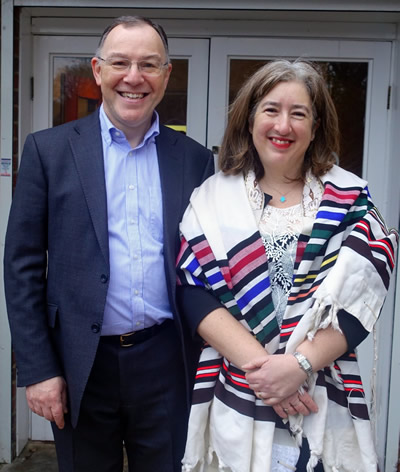 Prayer and my Mobile Phone
Attitudes to mobile phones and other technology van be quite polarized…  the press portrays the evils of teenagers peering into mobile phone screens and not speaking to anyone, at our  toddler group at church the leaders have noted the parents who spend the session on their phones and not playing with their children and then there are those who speak of Facebook as 'facade- book' and paint pictures of users as needy folk seeking approval, or as bullies, stalking and trolling the more vulnerable. 
Of course all those pictures are true of some people but life is not as simple as the easy stereotype that we can all feel cross about.  Teenagers are all very different and some have never spoken to other people finding something to bury themselves in for all time…. social media has been a God-send to isolating people of all ages in the past year,  and as for trolls and stalkers….. well they really are a hazard of the technological age. 
I really like my mobile phone and use it a lot….. but probably its chief function is as a camera! On my hour or so of dog walking in the early mornings I am always looking for a picture, something that shows the glory of God's creation, or that tells a story or something that just fascinates.  Checking the weather, tide time tables and following footpaths on the installed ordnance survey maps probably comes a close second.  And then of course are the radio programmes I have downloaded to listen to while I am out…. the most regular being 'something Understood' which I really wish they were still producing rather than running old ones.  If I use social media it is to communicate with others – often putting up photographs which bring great joy to those who cannot get out of their houses, or their beds to see the subjects. 
So I feel irritated when folks dismiss the phone as a completely bad thing!  All technology can be used badly but to dismiss it altogether is to throw many babies out with much bathwater.  From the lady who joins morning prayer from her hospital bed on ZOOM to the sharing of ideas on the diocesan face book page to the reflective short prayers of the Bodmin Hermit on Twitter and happy birthday wishes that show the lonely that they are not alone…. the phone has its uses,  So I am off to open my Daily prayer app for compline. 
The Office Computer that conspired against my Day off! 
The last year is taking its toll on my energy levels, that and having a dog that needs to be walked early in the morning so I find myself in need of a rest and some time off. The trouble is there is always something that jumps in the way.  My Rector, Caspar kindly made sure I had no commitments last Sunday and I duly took the opportunity to take a book to the conservatory and put my feet up….. the telephone went!  The call was from the church office where the photocopier was not talking to the new computer and to cut a long story short three days later and a dozen hours of research I solved it…. but my time out had disappeared. Mind you I just HAD to solve it…. !!
I am planning to take two weeks out in August….. this year.  In the meantime I wonder if anyone has thought about whether they are called to be the next chaplain to Readers – or to be an assistant Chaplain…. let me know if you feel that that might be you!