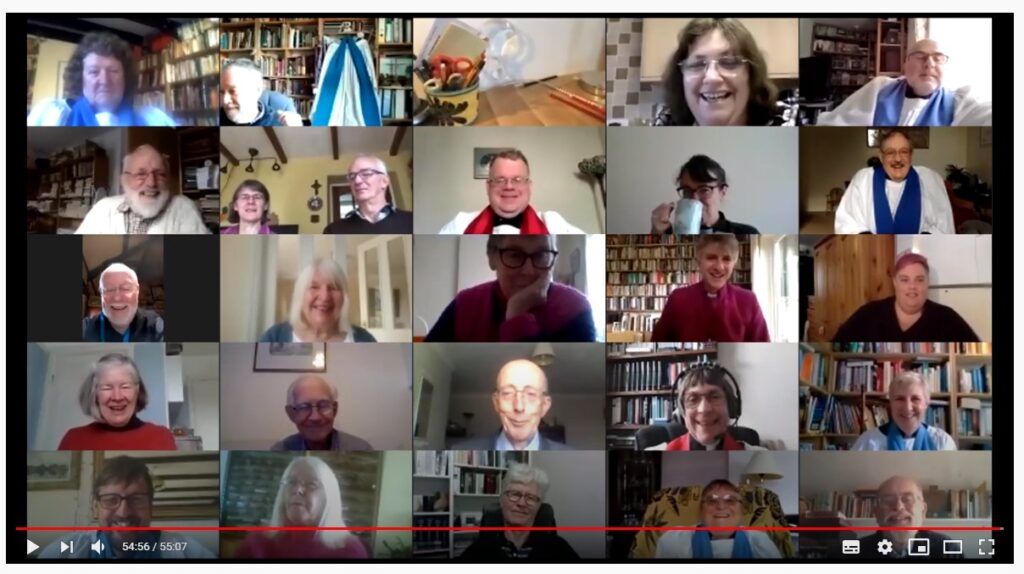 The picture above is at the end of the service – the happy faces as Roy puts on his newly awarded Reader's Scarf. (Roy is 2nd from the top on the far right! 
To the left is the video of the whole service. 
At about 12:30 I breathed a huge sigh o relief that the service had gone well, poured myself a beer and collapsed in the conservatory.  There were no major technical hitches, the internet, my wi-fi and my computer had all behaved themselves and the service seemed to have been well received with many cheery faces at the end. It is one of the delights of ZOOM that one can see faces rather than the back of people's heads.
The next bit is the official 'what happened and to whom' section!
The Annual Service for the Readers (licensed Lay Ministers) of the diocese was very different this year being entirely online using ZOOM.  It proved to be a heart-warming and thought-provoking experience with much joyous chat both before and after the service.
Bishop Hugh led the service and licensed Roy Cooper from the Calllington Cluster and reaffirmed the licenses of those who had been able to attend the small service in the Cathedral the week before.
Debbie Crocker to the Tamar Valley Benefice
Matt Frost to the Benefice of St Germans and Sheviok
Penny Leach to the Roseland and St Mawes
Sandy Massie to St Keverne, St Ruan, St Grade and Landewednack and
Debbie Mitchell to All Saints Highertown and Baldhu.
Two Readers came into the diocese and were also part of the service
Chris Clark (PTO) and Michael Waring who is licensed to serve in Poughill & Killhamptonn with Morwenstowe as well as Stratton and LAucells.
Liz Lane, who was herself licensed as a Reader only last year preached the sermo and new Reader Roy Cooper led the intercessions.
It was also good to be able to thank the Readers who have served in the Diocese but whose services have been lost in the last twelve months. In the last year two Readers have died; Graham Hindle and Lesley Boyden  and a number of Readers are, through varying circumstances, no longer ministering 
Brenton Blandford,
Gloria Street,
Margaret DuPlessey,
Nina Batley,
Angela Hooper,
Molly Brown,
Tess Dean,
Miriam Jones,
Lyn Curnow,
Chris Kingshott and
Garth Wright.
The slides of the service can be found in PDF format at the following link. 
reader service 2020 PDF Slides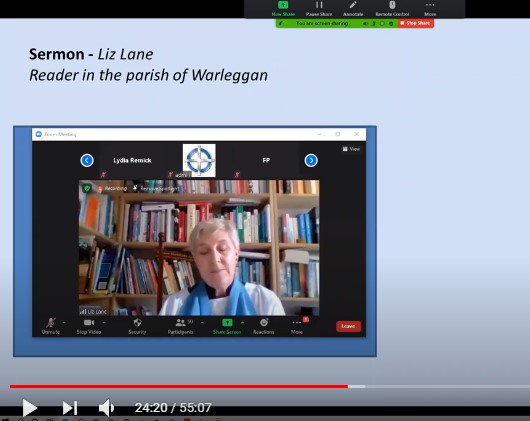 Liz Lane's Sermon for Readers' Service – 20th September and 10th October 2020 – St Neot and Zoom
 Romans 8:31-39 and Luke 12:22-34
 Lord, guide my lips, Lord open my heart, let written and spoken words reveal to us your Word.  In the name of our redeemer, teacher and friend, Jesus Christ.  Amen
 When I was first approached to preach this sermon, in Truro cathedral for the Readers' Service, it was January.  Lots of ideas came into my head; I asked the class of 2019, all with strong opinions, for their thoughts on readings, and I had nearly made my mind up about what this sermon would be about.
Then…the world shifted on its axis, and I stopped thinking about a sermon to be preached in October and started worrying about shortages of flour and tinned tomatoes…
And when the first panic died down, we all began to find new ways to do stuff, new ways to be…I began to look around me and to think and what I saw was gaps.
Gaps between people. Great big six foot gaps.  On the street, in the shops, in our diaries (once full of things we had to do) and in families and between friends and neighbours.
And…in church.  For so many months I think we all of us had a gaping gap in our Sunday mornings – nowhere we had to be…And now we are here…but it is different.  No longer can we act as Anglicans are wont to do and all cluster towards the back – we have to distribute ourselves – carefully – minding the gaps.
If we were in the cathedral  –  there would be far fewer of us, and we would be far flung into the corners, chairs would be empty between us. Our bubbles would not bump against any other bubble, no gathering together in the undercroft, no processing.
And now I can see many many boxes, with smiling friendly faces shining out of them, but we are apart. Your bookshelves, your kitchen cupboards, your domestic backgrounds occupy more of the screen than most of you do.  There are gaps.
God of the gaps…I knew I'd heard that phrase somewhere, and it pinged into my brain like a text message somewhere around the middle of May.
I knew I'd heard it, but I'd no idea what it meant, so I turned to Google; most of you are much better theologians than me so you will be nodding sagely, but for the benefit of those who are as ignorant as me, the theology of the God of the gaps is not theology at all, but the idea that human beings use the idea of God to fill in where we don't understand something, and as human knowledge increases, mankind no longer needs God, and faith is squeezed out.
But…look around us.  We are here both physically and virtually, with gaps between us, but we are not separated by them.  Churches may have been closed, we may not have been permitted to be together in the way we want to be, in our Christian communities, inn our groups of families and friends, but we are still here in the most important way, in the presence of God.
Separation.   One of the most painful elements of living with a pandemic during these long months has been separation, from family, from those in hospital, from loved ones in residential care.  We have not been able to be together in times of joy or in times of sorrow, but ..through it all we can hear the voice of St Paul:
For I am convinced that neither death, nor life, nor angels, nor rulers, nor things present, nor things to come, nor powers, nor height, nor depth, nor anything else in all creation, will be able to separate us from the love of God in Christ Jesus our Lord.
So what have the gaps been full of?  Taking care of our neighbours with shopping and a friendly word, doing stuff for each other, appreciating the best of what we have (remember clapping for the NHS on a Thursday night) slowing down, noticing the birdsong and the changes of the seasons.  Realising that people can make a difference where politicians are slow to – a young footballer can make sure that children do not go hungry. 
And we are living differently; maybe rethinking and realising that the lengthy commute to work is not the way we want to live – sales of smart suits have plummeted, but the comfy elasticated waist….! Consider the lilies….
And we have had time to, and it has been a joy, and a healing, and a coming back to being able to live just a little bit closer to the way that we always knew we should, but had forgotten how.
And with churches closed, we found different ways of being church, by joining together online, by watching and listening via lots of different mediums, and the sales of Bibles have jumped by 143%!
The message of hope to be found in the Gospels has been grasped, and read, and downloaded, and listened to, and taken to heart by those who have never found true nourishment from Sunday morning worship.
So maybe the gaps between us are nothing new, but it has taken a worldwide crisis to make us really see them.  And to get a glimpse of what God is doing in the spaces between us, and to begin to join in.
Faith begins when we realise we need salvation – this is what the gaps have shown us.
So…holding in our hearts the bereaved and the broken, and trusting that God will continue to show us the work we have to do, we will go on in faith and with faith.  And it will be different, and sometimes that will grieve us.  Mind the gap…bring to mind that the gaps are not an absence, a loss, or a lack of understanding  –   but are filled with the presence of God.