Yesterday I took my second ever funeral and the first in a church and the first at Penmount Crematorium.
Because it was a celebration for a local legend who was president, chairman, Lodge Master and choir member there were an awful lot of people who wanted to say farewell and I found it an enormous privilege to be able to to take the service and provide pastoral support for the family.
I never intended to get involved in funeral ministry and it does not even appear on last September's Work Agreement but  I have done so with  the encouragement of my Rector, Caspar Bush, who backed up his encouragement with a good deal of conversation and email because I like to get things right and pay attention to detail!
The funeral yesterday was a marathon affair and I suspect only really fell my way because the Eight Saints Cluster is somewhat short staffed for one reason or another at the moment. The family were really helpful and even gave me a lift to the church arriving at the same time as the church warden (Terry Lister) who could not have been more helpful in providing local knowledge to help with the choreography of the service- there were no spare seats and we even had Truro male voice Choir singing in the choir stalls! The first mourners were there over an hour before the start to get a parking spot and the seat of their choice but I was able to greet most of them at the door.
"Oh are you the vicar?"
"No not me….. not a vicar just a licensed Minister taking the service"
or
"Thank you reverend.."
"No I'm not a reverend"
"what are you then…?"
"Oh I'm a Reader, a licensed Lay Minister"
"Oh are you Methodist then?"
"Well no, I'm an Anglican minister but I am on the Redruth Methodist preaching plan"
(There is a question about Reader identity here I suspect!)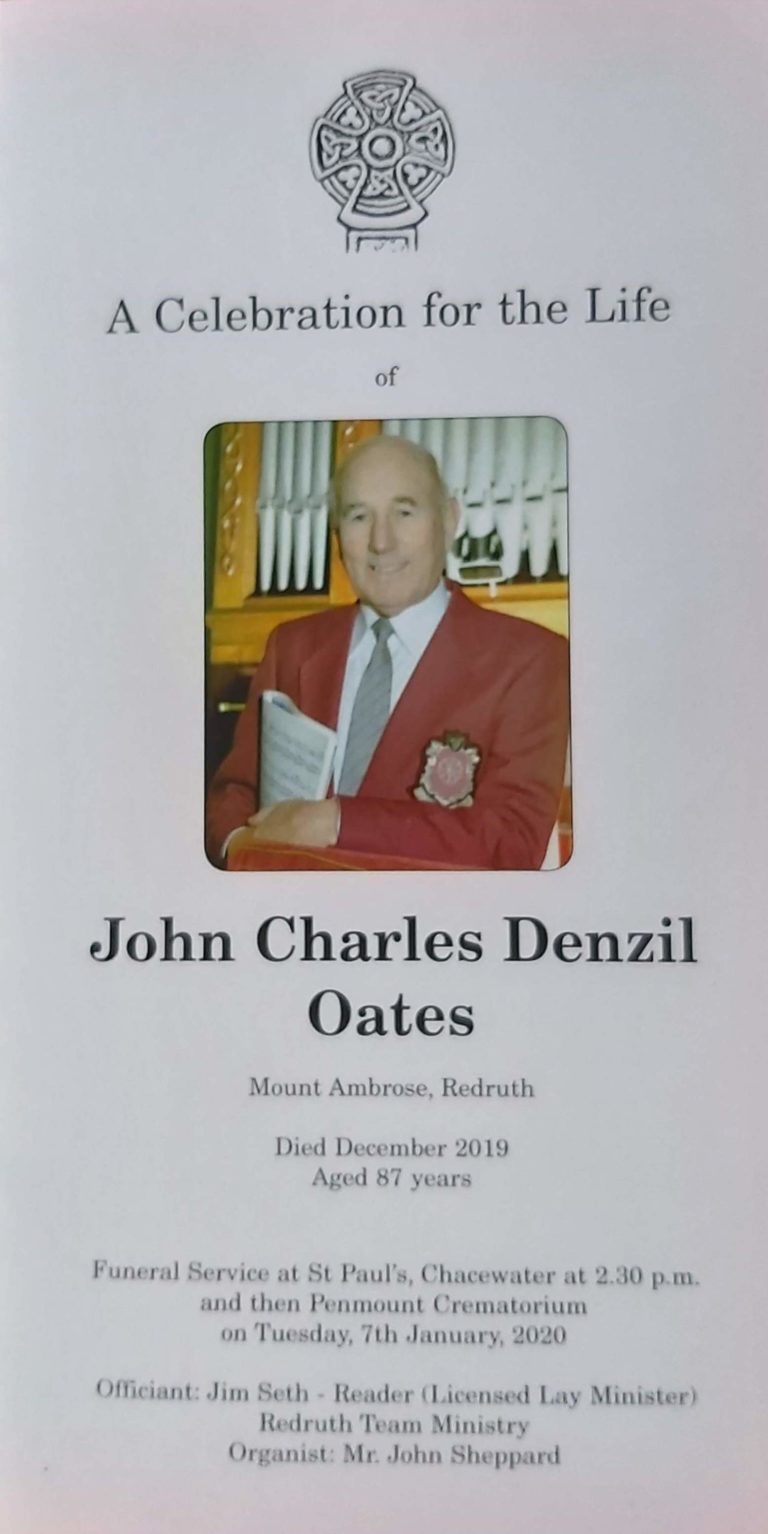 I had been wrestling with the cough that has lingered on since mid December and continued to do so as I wandered sedately down to the lych gate to await the hearse and the family. There I offered up my usual pre service plea for some spirit filed assistance and another one specifically about coughing. Interestingly, and rather wonderfully I did not cough again until three hours later when we left Penmount. Thank you Lord!
The wake had been planned for immediately after the service – so having shaken a couple of hundred hands and had several lengthy conversations I headed down to the bowls club to join the party- without my Readers robes, without them I could easily have been invisible- it was fascinating! I had to explain I had just taken the service so I could jump the long food queue and get a mug of tea.
The undertaker mustered the family at just after four and I threw on my robes once more and headed for the short committal at Penmount and then I was taken home! Everyone was incredibly grateful but I just felt that I had been in the right place at the right time and hopefully said the right things.
So I am glad that when God opened that door a fraction I stepped inside to give it a go and to learn new things. Even at 67 and three quarters you can teach an old dog new tricks.
Rest in peace Denzil.