Arnold
We met Arnold last week officially though we suspected he was an unwelcome guest a week earlier but had to wait for confirmation. We now have a date, the last day of May for his eviction – then it will be the slow mopping up operation.

The little, roughly drawn, illustration is from my prayer journal late last week after my wife's breast cancer was confirmed – she named it Arnold. She had a dream that she had either a reluctant dog on a lead or possibly a small child on reins, or possibly both as they seemed to merge.  Whatever they were / it was, through a convoluted narrative in which she was supposed to go places and get things done,  Arnold was holding her back and making her rather cross with frustration.  As a metaphor it seems to work rather well.  
The prognosis is good and it seems to be caught quite early though treatment will include surgery, radiotherapy and some sort of hormone reduction medication. It has been wonderful with folks rallying around to tell us positive recovery stories and the more positive stories we can hear the better. The prayer support has likewise been wonderful and though I feel very stretched and have been somewhat melancholic, we feel the security of Gods loving embrace.
So 'Lez' is another name on my lengthy prayer list that I rehearse in my head several times a day – when I wake, when I walk, before I sleep or sitting in a waiting room. She slots in nicely with Lesley M and Lesley B – what is it with Cancer and the name Lesley? (that's not to do a disservice to Margaret and Anna and Paul and the rest who are also living with an Arnold of their own – or trying to make sure he does not come back!)
The thing about this sort of intrusion into one's life which was totally unexpected as it followed a routine screening rather than the discovery of symptoms,  is that it that it does present a challenge  to faith when it comes to healing and miracles.  I thought it might be more tricky than it is…
My own personal mantra is that 'stuff' happens, bad things happen to good people. Occasionally there are visibly tangible miraculous healings but I suspect that most of the time it is down to the health service backed up with the positive attitude of those who have a deep belief in the love and power of Jesus.
The temptation is to be a bit like the bloke dangling from a cliff shouting to God for help.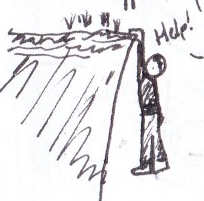 When God tells him to let go and trust in him he yells, "Is there anybody else up there?"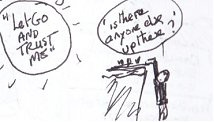 The staff at the Mermaid Centre at Treliske were wonderful, and we are thankful that we have the wonderful NHS and don't have to worry of we have medical insurance that will actually cover us as one continually reads in the USA.
So thank you Lord for the NHS, the Mermaid Centre and the staff who work there- the surgeons, nurses admin and cleaning teams and of course the 'Friends' who make tea for worried patients and their supporters.   
Being a stoically practical person who never stops, my wife has a list of things to complete before May 31st so the next couple of weeks I have my orders helping complete her list of tasks before surgery. The biggest task is  preparing for the big annual Arts festival at St Andrews in June- this year the theme is "Looking up" so we have Aerial Dance theatre Yskynna performing – suspended above the pews! The upshot for me is missing Reader Day but priorities lie here and I shall be thinking about those who go and I shall be praying for them.
If you want a copy of my prayer list to join me in my daily thoughts- just ask. If you think you or someone else should be on it…. Ask that too.