My lent group is going to meet, in person, for four Wednesday afternoons  to watch "The Passion " element of the Mysteries in four parts.
When I watched the series back in 1985 it made a huge impact and watching them back after so many years has been equally inspiring. 
I have included links below to all the parts in order on YouTube.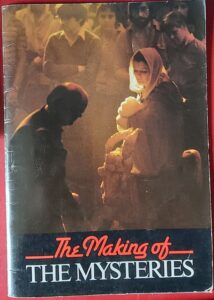 It is based largely on the Wakefield cycle of plays (but incorporating some scenes from the York, Chester and Coventry canons) and adapted by poet Tony Harrison, working with the original cast, into three parts: Nativity, The Passion and Doomsday. Directed by Bill Bryden, it was first performed on Easter Saturday 1977 on the terrace of the National Theatre building on the South Bank, London. It then went into the repertoire in the Cottesloe Theatre (part of the South Bank complex) until 20 April 1985 when the Cottesloe went 'dark'.[1] Later in 1985 it transferred with a slightly different cast (Barrie Rutter playing Herod & Pontius Pilate, and Barry Foster as Lucifer/Judas/Satan)[2] to the Lyceum Theatre—then in use as a ballroom and so without seating.
Harrison's concept was to present the original stories as "plays-within-plays", using as his characters the naïve but pious craftsmen and guild members, to some extent modernised to represent the trades of today—God, for example, created the world with the help of a real fork-lift truck—[3]acting out the parts of the story that their mediaeval counterparts would have done. At the start of each performance actors dressed as tradesmen welcomed the audience.[4] The performance was a promenade one, with the audience mingling with the actors and making up the crowd at such scenes as the last judgement. The Evening Standard reported witnessing "An extraordinary experience… no wonder the end of it all saw an explosion of communal joyousness with everybody, actors, musicians, and audience alike, cheering and clapping and singing and dancing."